Rina Murao Solo Exhibition: We Weave Seaweed on a Sea Wave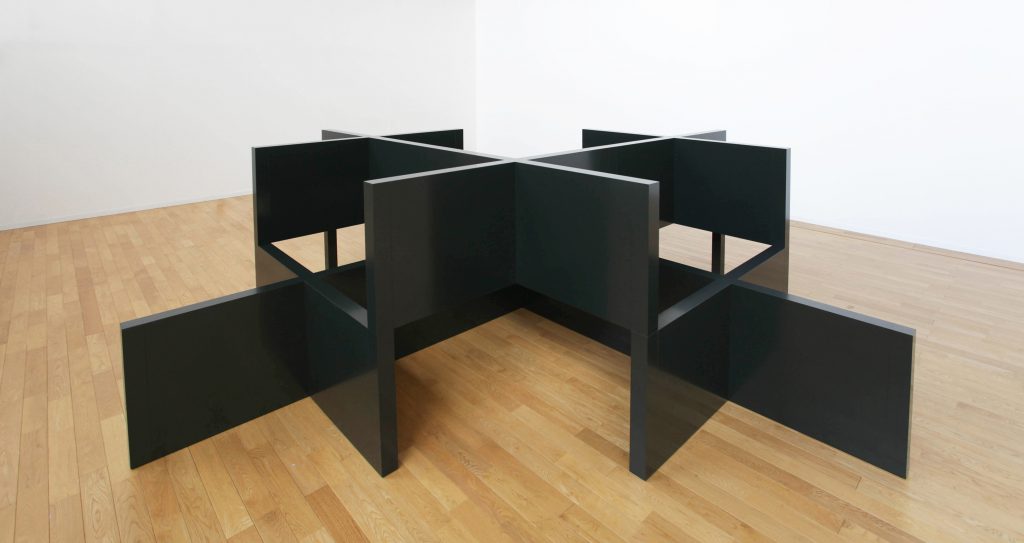 Czong Institute of Contemporary Art (CICA) Museum, Flex Space
May 1(Wed) – 5 (Sun), 2019 10:30 a.m. – 5:30 p.m.
Reception party: May 4 (Sat) 3:30 p.m.-5:30 p.m.
196-30, Samdo-ro, Yangchon-eup, Gimpo-si, Gyeonggi-do, Republic of Korea 10049
General Admission Tickets ₩ 7,000 for Adults, Middle and high school students ₩ 6,000,
Elementary students ₩ 5,000, Preschoolers ₩ 3,000
Getting to the museum: From the Gimpo International Airport, take the Airport Railroad to Geomam Station (All stop train 20 min), and then take the taxi (20 min) to the Museum. From downtown Seoul, take the subway to
Geomdan Oryu Station, and then take the taxi (5min) to the Museum.
---
Photo: Table of Squares, 2019
Rina Murao is a Japanese sculptor whose works capture space, reflecting her personal and cultural identity. For years she has made work by fabricating steel sheets into multiple units to form a structural configuration. Walking around the work, the viewer encounters aspects of the sculpture sequentially, finding an intended viewpoint. The way she creates sculpture to lead the viewer to engage her work is clearly influenced by the spatial orders of Japanese gardens.
In the Flex Space of CICA, two large sculptures inspired by seaweed farming will be placed on the dark glossy floor of the gallery space. Murao is fascinated by seaweed farming in the way it creates order in the boundless sea. The title of the show "We Weave Seaweed on a Sea Wave" suggests her interest in the structure of sound in language. It also subtly suggests the finding of a 'tangent point' between the two cultures, Japan and Korea, where they both harvest seaweed in the sea. This exhibition is Murao's first exposer in Korea and is realized with the support of The Nitto Foundation, Japan.
Rina Murao
Born 1975, Nagoya City, Japan. Bachelor of Fine Arts (BFA), New York State College of Ceramics at Alfred University (1998); Career Discovery Program in Landscape Architecture, Harvard University Graduate School of Design (1997); Master of Fine Arts (MFA) (2002) and Doctor of Fine Arts (DFA) (2006) in Sculpture, Tokyo University of the Arts Graduate School of Fine Arts. She is awarded the Graduation Work Purchase Prize, Tokyo University of the Arts (Japan) in 2002; and The Nomura Art Prize (Nomura Cultural Foundation, Japan) in 2005, both of which works are the collection of the University Art Museum, Tokyo University of the Arts. She has received grants from the Nomura Foundation (2017), The Nitto Foundation (2015, 2019), and The Hibi Science Foundation (2014). Murao started teaching at Aichi University of the Arts, Department of Fine Arts in 2013, and is Associate Professor since 2017.
---
무라오 리나 개인전
CICA미술관, 플렉스페이스

2019년 5월 1일(수) – 5일(일) 10:30am-5:30pm
리셉션파티 : 5월 4일(토) 3:30pm-5:30pm

경기도 김포시 양촌읍 삼도로 196-30, 10049
문의 : 031.988.6363
http://cicamuseum.com/

오시는방법 :
1. 지하철 인천2호선 "검단오류역"에서 하차 후 택시로 약 5분 이동.
2. 인천공항철도「검암역」에서 하차후 택시로 20분

전시 관람료 : 성인 ₩ 7,000, 중고등 ₩ 6,000, 초등 ₩ 5,000, 유아 ₩ 3,000(*유아는 부모 동반 시 무료입장입니다.)
본 초대장을 지참하신분은 동반3인까지 무료입장 가능합니다.
조성 : 일동학술진흥재단